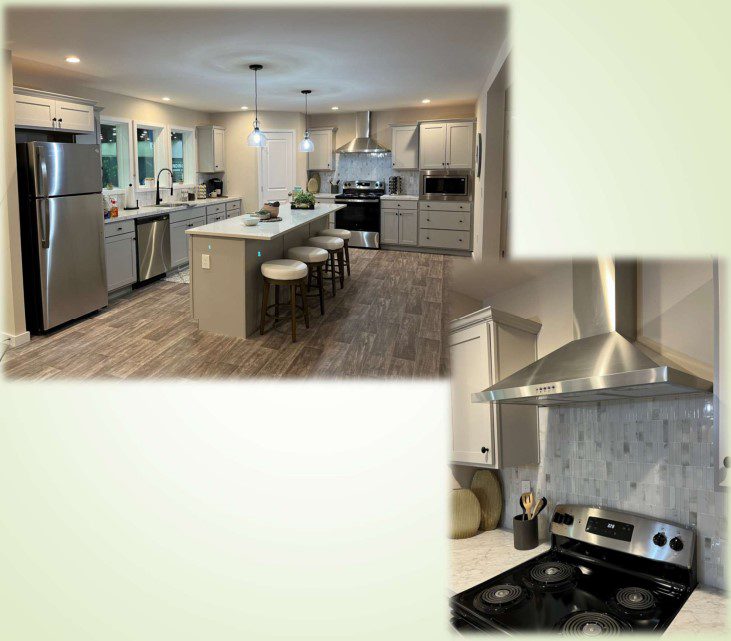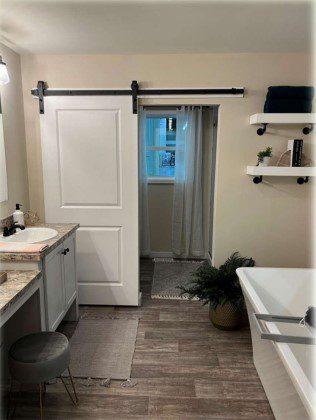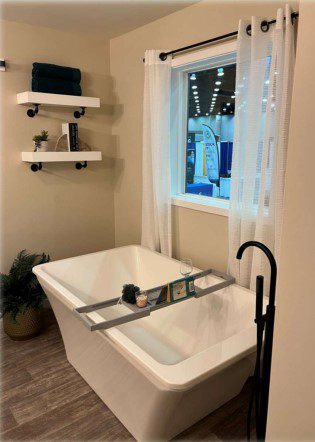 Master-Craft Evolution Series Amber, 30 x 60, 1800 Sq. Ft., 3 Bedroom, 2 Bath.
During this unpredictable time, this home's price includes a price buffer that may be refundable. Please call 1-888-339-7449 or email [email protected] for details.
This home is displayed with the following options:
Single LVL Each Box Repl 2×10 Center Rim Joists 1st Floor
Cross Blocking for Superior Walls
R21 Batt Wall Insulation Repl. Std.
F-49 Batt Ceiling Insulation Repl R-30 Batt
Certainteed Board & Batten Siding Under Dbl Dormer area
3 1/2" Leneal Trim White Repl. FDS Shutter per Window LR
Heritage Fixed Glass Picture Window P4040 Over Tub In MBath
Painted Front Door
1/4 Glass 6 Lite w/Dentil Craftsman 3/0 Door IPO Std. Front Door
9 Lite 3/0 UR Door
3/0 Full Clear Door IPO Std Door Inc In Bench Package
Electric Door Chime w/Button @ FD
TV Jack (1 opt. 2 total 1 Incl EC Pkg.)
Phone Jacks (2)
Additional Interior Recept. 2 TV Jack LR
3" PVS Pipe w/J-box for radon –completed onsite by others
Metal Duct for Central Cold Air Return
SS Upgrade Appliance Pkg. w/ Std. Chimney Hood– Electric
36" Interior Door Repl. Std. 2– Panel All 3 bedrooms
3/0x6/8 Rolling Door Hardware Repl std. 2/6 Swing Door Entry Into Bath/Entry Into Shower area (2)
Shiplap Bench Seat Package
48" White Floating Shelf w/Metal Brackets IPO std. wire shelf over W/D
60" Black Roller Dower Door w/Black Corner Shelves Repl. Std. Stainless Roller Door/Nickel Shelves
Hood System: Ducted Hood System for Exterior Repl. Std. Ductless System
Countertop Microwave Built –In Look Trim Kit
Microwave 2.2 cuft Countertop Stainless
Straight Stack Glass Mosaic Tile Backsplash-Kitchen
3cm "Hanstone" Quartz Countertop Group 1 Island Only repl. Laminate
Lasalle Matte Black Single Handle Kitchen Faucet
Lasalle Matte Black Dual Handle Lavatory Faucet Ipo Std. MBath
Lasalle Matte Black Shower Trim Pkg. MBath
Privacy Lock Repl. Std. Lockset (BRS)
8" Deep SS Double Bowl Sink Repl. Std.
Mirror-Homestead 1 1 /2" Flat Stock Wood Framed Repl. Std. Penceil Edge Mirror both baths
Opt. Black Faucet & Trim for Pedestal Free Standing Tub-MBath
Additional Black Exterior Light @ FD
Leviton VTP 24 Programable timer for Bath Vent Fan-Whole House Ventilation Requirement
2 Bulb Nickel Flush Ceiling light (All BRS)
Omit-3-Bulb Chandelier Hanging Light REPl. Custom Option
Lasalle Black Pendant light (2 Island)
Paddle Fan w/light LR
Additional 4" LED Spotlight (1 Hall, 4 DR)
Extended OH Refer Cab. 24" Deep Repl Std Refer Cab-Kitchen
Tall Oven Microwave Cab. w/Wiring
Drawer Over Door Kitchen Cabs. (3)
2 Door P1884 Utility Cab. w/Crown– Main Bath
24" White Floating Shelves w/Pipe Brackets
48" Electric Fireplace w/TV Alcove & 2 Tall Book Cases-LR
Coming Soon!
These standards are being added to our website & will appear shortly. In the meantime, please contact any of our sales centers for more information. Thank you for your patience.